C-pod
(Change Track Type)

---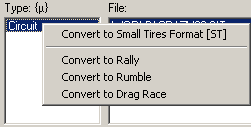 The track type list box is located in the bottom center of the 
  program window.


  Double click the current type for the menu of choices.


  - Small Tires Format [ST]
               This configures a track to be used with vehicles
               conforming to small tire format.  Tracks converted
               to ST can be converted back again.


  - Circuit    Usually under three-minute lap times.


  - Rally      Usually over three-minute lap times.


  - Rumble     Summit (king of the hill) type tracks.


  - Drag       MTM1 track type (not widely tested).


  Note.  Changing a rumble to a circuit, for example, will allow you
         to view it offline quickly and easily.  However, if you want
         to test the scoring zone offline, you'll need to use gold mode.


  Changing a track type is easy, and the interface will not allow
  you to select the existing type (you can't go wrong).


  Warning.  Changing the type of a track pod may trigger the 
            Different Version message during multiplayer gameplay.
            Only edit a track pod if you are prepared to restore
            the original for online play.


  Note. There is one truck type only.  You cannot change it.