C-pod
(Extract All Files)

---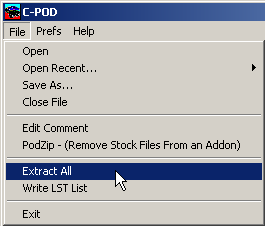 When a pod is open, select 'Extract All' on the File menu.


  You will be prompted where to save on the hard drive.


  You will also be prompted to save a LST file
  - this is especially handy when editing and repodding a track


  Note 1.  Extract All preserves directory structure (a good thing).


  Note 2.  Some pods are quite large.  Make sure you have enough disk
           space to hold all the files.


  Note 3.  You can save anywhere.  It does not need to be the mtm2
           folder, although it's okay if it is.