C-pod
(Extract Single Files)

---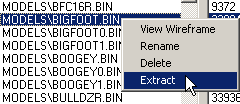 Double click any file in the file list box and select 'extract' 
  from the pop up menu.  You will be prompted where to save it on
  the hard drive.


  Any file in a pod may be extracted this way.




  Note 1.  In the details window, you may copy a texture
           to the windows clipboard and paste it into 
           your favorite paint program, without saving.


  Note 2.  In the file list box, you may save RAW files to 
           BMP format, skipping the conversion step.