C-pod
(Enable and Disable Tracks and Trucks)

---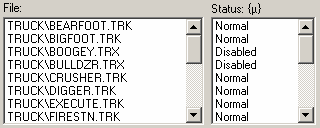 The status and file list boxes are in the bottom right corner of 
  the program window.


  - Normal means the track or truck will appear in the game.
  - Disabled means it will not.


  Double click the word "normal" or "disabled" to toggle the status.


  This is handy if you want to turn off trucks that are merged with
  addon tracks you download, or if you want to turn off stock trucks
  you no longer wish to see.  Doing so also frees up room for more 
  addons.  This is also useful for disabling tracks or trucks that
  cause errors, while leaving the remaining items in the pod intact.


  Warning.  Changing the status of a track pod may trigger the 
            Different Version message during multiplayer gameplay.
            Only edit a track pod if you are prepared to restore
            the original for online play.


  Disabling a track or truck does not delete it from the pod.


  The way it works is that c-pod renames the TRK or SIT file to
  TRX or SIX.. so the game no longer recognized it.  For example.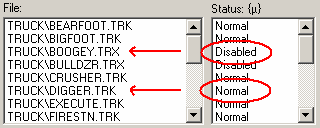 Restoring a disabled track or truck just renames the TRK or SIT 
  file to its proper form.