C-pod
(PodZip)

---

  Programs like Tracked2 and Traxx create pods that include stock
  and/or additional unnecessary files.  The result is bloated pods
  that are much larger than they need to be and which use up excessive
  server hard drive space and bandwidth - both costly commodities.
  Removing these extra files has become the standard when making
  addon tracks and trucks.


  The word "podzip" was coined by Larry Boy when he wrote the original
  command line utility using the name podzip, and the term has been
  universally used ever since when referring to the process of removing
  unnecessary stock files from an addon pod, regardless of method or
  program, in order to reduce the overall file size for easier and
  more convenient distribution over the internet.


  C-pod is the easiest, most user friendly podzip program to date.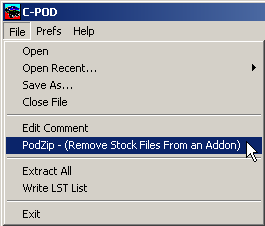 Open a POD file using Send to or Open.  You can see the potential 
  space savings, if the pod is to be podzipped, in the pod info box.


  If you determine that your creation can benefit from podzipping, select
  "PodZip - (Remove Stock Files From an Addon)" from the file menu.  You
  will be prompted for a new file name (You are allowed to overwrite the
  existing pod but it is usually wise to make a backup first).


  Note.  The process may take a few moments.  Check the progress bar
         along the bottom to watch c-pod at work.


  When c-pod refreshes the file list, the podzipping is complete.


  Warning.  Podzipping an existing track pod may trigger the 
            Different Version message during multiplayer gameplay.
            Only the maker should podzip a track.


  Note.  Podzipping a truck does not cause errors.  All trucks
         may be podzipped.


  Trucks created using c-pod are already podzipped and do not need
  to be done again.